Upgrade your student dorm room on a budget with these cheap Kmart homewares and hacks that will make your room feel like home.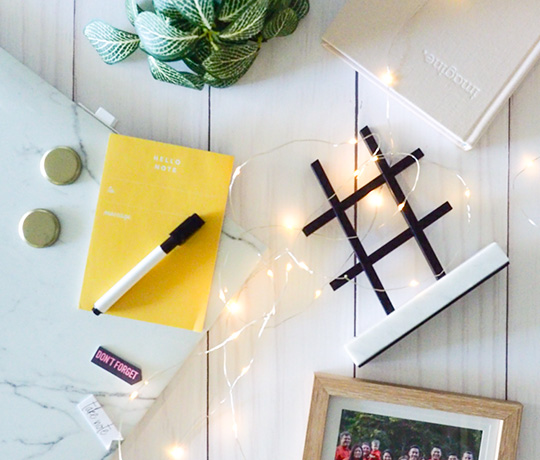 It's no secret that I'm a social butterfly. I love being out and about hanging out with friends or exploring all that Sydney has to offer. But I can only do that when I have a quiet space to come home to unwind and recharge in-between.
Most student dorm rooms already have all the basics. But there's nothing like adding a few personal touches and creature comforts to make it really feel like home. Most of all, if you're living overseas, it's important to have a few personal items or mementos from the family home to remind you you'll always have your loved ones close by.
Best of all, it doesn't cost a fortune to make your space your own. Just a few well-chosen items that reflect "you". Well-priced homeware stores are everywhere in Australia, but one of my favourites is Kmart. They have all the basics you need, plus they're very good at picking a few trendy items to help you update and personalise your place from as little as $5. Totally budget friendly!
To help get you started, here are a few of my favourite kmart hacks and items to help you make your dorm your personal sanctuary.
Start with a colour palette
There are so many choices when it comes to homewares, it's important to start with a few ground rules. For me, it's colours. Are you into big, bright bold colours? Or are you more of a cool, classic monochrome? Whatever your style, there'll be a tonne of items for you to build from at kmart – so having a basic colour palette or even a theme (like tropical or pastels are trendy at the moment) and you'll have a great guide to help you make a choice.
For some inspiration, head to Pinterest or somewhere like Coolors that has some great tools to help you generate a colour palette.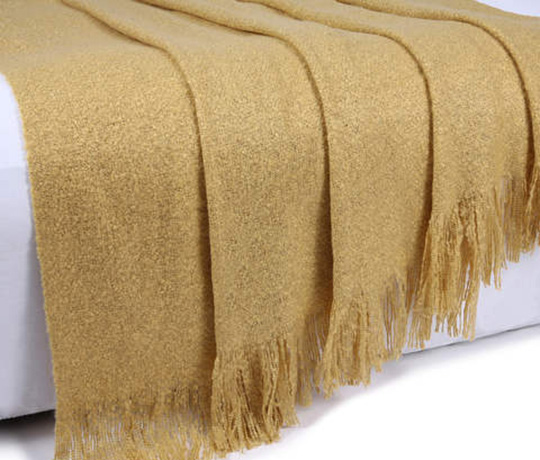 Build from your bed
In a student dorm room, your bed is probably the space you spend your most time in. It'll also likely take up the majority of the space, so start applying your colour scheme here first. Invest in comfortable sheets and get two sets of bedding that you love; remember to change your sheets at least once a week, so having a second set will help you manage your time easier.
To make your bed more comfortable, play with textures and colours. You spend basically a third of your life asleep, so invest in a great pillow to sleep on. Then have fun with some throw pillows to hug while you sleep, or just to add some texture. Throw blankets are excellent too not just to add texture, but to drape around yourself if you're a little cool sitting at the desk doing university work, or as an extra blanket when friends come to crash.
Study in style
The next biggest space is your desk area, so have fun with that. I've always been obsessed with good stationary. It just makes it feel so much more satisfying to study when you've got pretty stationary! Kmart always has great (and cheap!) notepads, notebooks and accessories like washi tape and tiny sticky notes to help you mark up your textbooks. Start here and find stationary that sparks joy and matches your colour palette.
The rule of threes
I love my desk accessories – sometimes I run out of desk space to actually put things I need like books and folders ? But there can be such a thing as too much. So try to obey the rule of threes. Group items of various sizes together in no more than three. I'm sure science will have an explanation for it at some point, but artists and interior designers have always known this golden rule and it almost never fails.
This applies to things like desk photo frames, pen pots and desk features like this little hashtag paper weight. Maybe because I'm a digital marketer, but I'm obsessed with this right now. But make sure you group it together with two other things to set it off.
Photos of loved ones from home is always important to have in your dorm. This I find is especially so when you're living overseas. Though it's a fantastic, eye-opening life experience, it's important for our mental wellbeing to feel like we have our loved ones close by, even when they're not physically near us. For me, it reminds me of all the support I have while encouraging me to explore the future.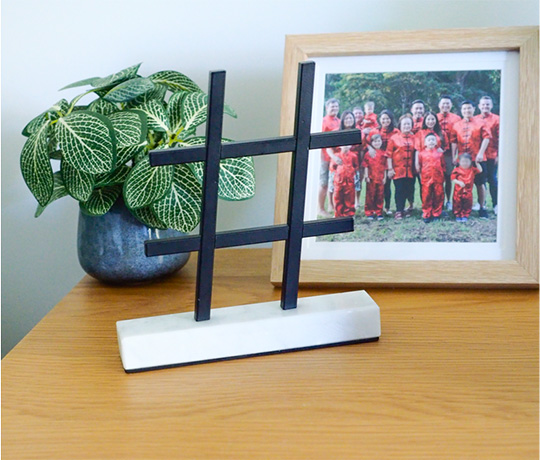 Think about your eye line
With the invention of things like 3M hooks, you can affix things like prints and frames on the walls. It also leaves no damage when you remove it later, or if you're anything like me, change their minds about what to have on the wall all the time.
Prints, posters and inspirational phrases hung at eye level is a great way to add colour to your dorm and make it feel like your own. Think about your colour scheme, what reflects your personality, or what sayings resonate with you that will keep you inspired every time you look at it.
Adding something like this mirror in an interesting shape will also add interest to your room while making it feel bigger and lighter – double win!
A classic dorm room decor is this polaroid or photo wall, hung up by these cute decorative pegs. It's a great way to remind you of home, but I'd also leave a few extra pegs to make space for some new memories and new friends.
My favourite item at the moment is this faux marble whiteboard. It's super handy to put your weekly to-do tasks here or use the magnets to attach a photo or magazine cut-out that inspires you.
Set the mood with lights (and music)
There's nothing more horrible to me than blue or white fluorescent light. It gives me a headache, and no body is in a good mood when you're so starkly lit. That's why when I move to a new dorm, office or even apartment, I always look at the lighting and try to create that warm white glow as the basic lighting. I then look for things like desk lamps or standing lamps to add to the atmosphere.
As well as the room light, it's important your study area is well-lit. Even though we're all on computers these days, a lot of textbooks and course materials are still physical, and there's nothing like putting pen to paper to help me study. So look for a desk light that properly illuminates your desk. There are some desk lamps too which are dimmable or you can change the light temperature of so that it's bright for study, but warm for general lighting.
My all-time student dorm room must are fairy lights. You can get these great LED ones from kmart that is so energy efficient it feels that that one battery will last you forever. It's perfect for when you're winding down or have a few friends visiting – it makes the space so much more inviting.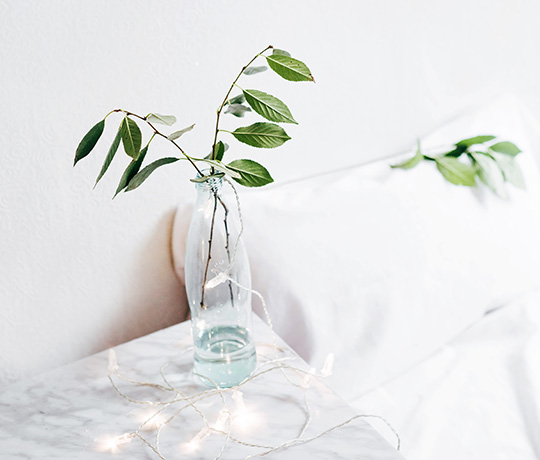 Bring in some nature
This last one is probably my favourite to do when I get to Kmart. They have a tonne of really well made and realistic desk plants on sale, and there's nothing like a little greenery to lift your mood. You just need a few of these dotted around your dorm to instantly lift your mood and make your space so much more cosy.
If you're feeling more adventurous, Kmart also has a range of planter pots which I absolutely love. Start off with one or two and head to your local Bunnings – an Australian institution – and visit their garden centre. If you can, also check out your local plant nursery – there are plenty of indoor plants for you to try your hand at. Not only are they beautiful to look at and lifts your mood, certain indoor plants can purify the air around you making your environment that much healthier, too.
Want a quick extra tip for decorating your student dorm room? Go simple! Leave room for change, or for your morning yoga workout before your 9am lecture. You'll accumulate lots more 'stuff' throughout your university year.