With there being a lively brunch scene like no other, it can be hard to choose where to go, so we've narrowed down the best brunch spots in Adelaide.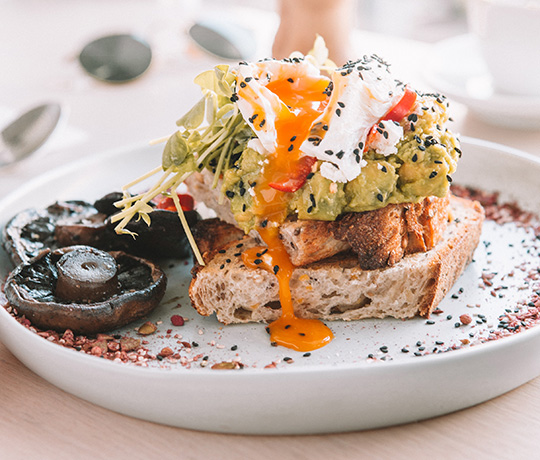 You haven't had a good weekend until you've had a cheeky brunch session, either sober after a brisk walk or a couple Bellinis deep with your mates. Brunch is one of most popular times for eating out and South Australians know how to ace it. There's cafes that kill it with your household favourites like the classic smashed avocado with poached eggs and there's others that offer a unique twist that experiments with flavours you would believe don't go well together until you try it.
Here's our favourite 7 brunch spots in Adelaide to kick start your day, the right way.
#1 Coconut Estate Eatery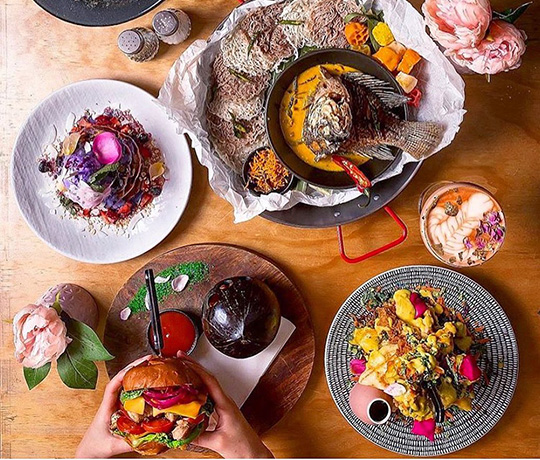 Location: 5/11 O'Connell Street, North Adelaide
Opening times: Monday: 9:30am – 3pm
Tuesday: Closed
Wednesday – Friday: 9:30am – 3pm
Saturday – Sunday: 8:30am – 2:30pm
If you want a brunch of the highest quality that is aesthetically worthy of an Instagram post, then Coconut Estate Eatery has you covered. Heavily inspired by Sithara Rajakaruna's love of fantasy, unicorn colours and coconut, the Sri Lankan owner aspires to create food that's almost too pretty to eat but also pays homage to her country. Think coconut crème brûlée pancakes, Turkish delight glam lattes, matcha smoothie bowls and coconut cream waffles with butterscotch sauce and cashew ice cream…the list goes on!
#2 Peter Rabbit Café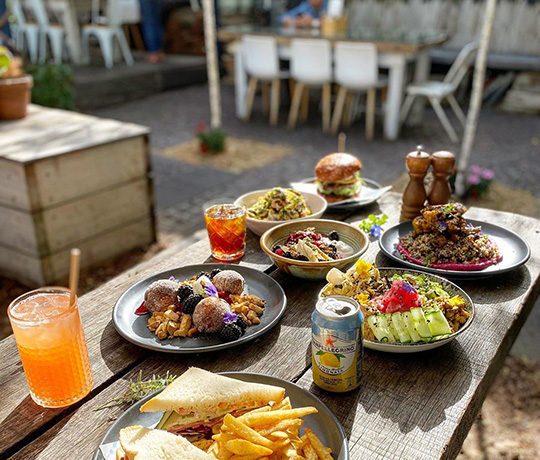 Location: 234 Hindley Street, Adelaide
Opening times: Monday – Thursday: 7:30am – 3pm
Friday: 7:30am – 10pm
Saturday: 7:30am – 2pm
Sunday: Closed
When it comes to character, this one takes the cake. This corner café is tucked away amongst a concrete jungle. Yet it opens up to a world of lush greenery and gardens with lemon and avocado trees, lawn tables and a shipping container that's been repurposed into a café with herbs hanging from the ceiling. It's a beautiful atmosphere to enjoy a smoky pork and beef egg roll with hoisin relish or an avocado on rye toast with pico de gallo. Pair that with their famous freshly brewed coffee or brunch cocktail, whatever's more up your alley! Keep an eye out for the two resident bunnies that also reside here.
#3 Karma and Crow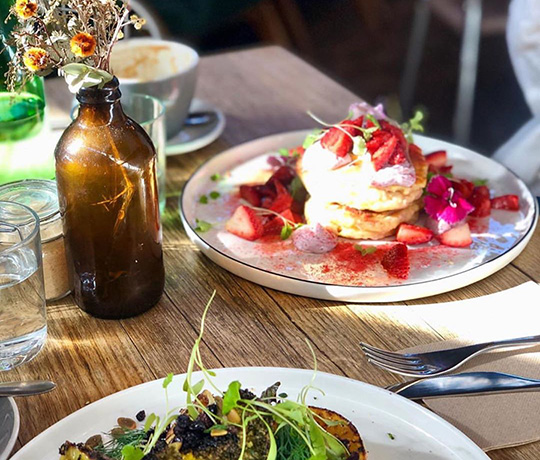 Location: 249 – 251 Richmond Road, Adelaide
Opening times: Monday – Wednesday: 7:30am – 2:30pm
Thursday – Sunday: 7:30am – 3:30pm
A brunch spent at Karma and Crow is a morning well spent, let us tell you. It's home to an array of brunch meals that are experimental, delicious and anything but boring. We're talking fried buttermilk chicken on black buns, mac and cheese toasties with crispy pancetta, fluffy ricotta pancakes with strawberries, berry labneh, honeycomb butter and maple syrup…It's just so good. It's a converted warehouse space with second-hand furniture and various plants that offers both indoor and outdoor seating. The vibe is next level, with events and music often being held here.
#4 Café Troppo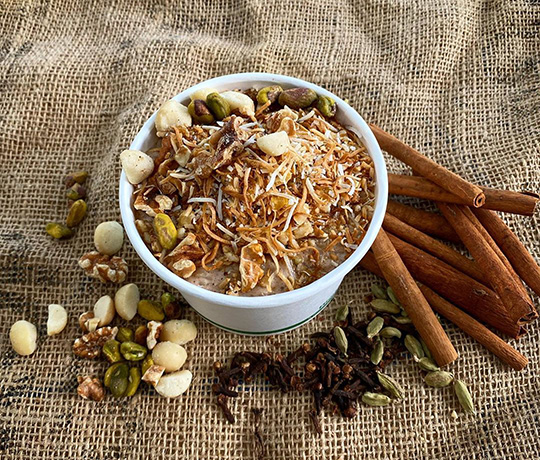 Location: 42 Whitmore Square, Adelaide
Opening times: Monday: Closed
Tuesday – Thursday: 7:30am – 4pm
Friday: 7:30am – 12am
Saturday: 9am – 9pm
Sunday: 9am – 4pm
Mouth-watering dishes served with the premise of sustainability at the forefront? Say no more! Café Troppo is an environmentally ethical café that offers organic and local produce such as sourcing heirlooms from Ash Patch, a local gardener who delivers by bike, using local rainwater to make soft drink or even using recycled coffee bag seats. It doesn't get much fresher than this, with a menu offering delights like chai-spiced coconut rice porridge, free-range scrambled eggs with herbs and chilli served on sourdough and kangaroo fillet with halloumi and pickles sandwich (a much more sustainable meat option).
#5 The Flinders Street Project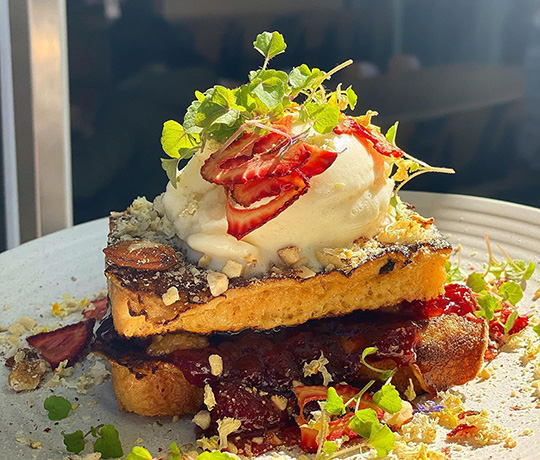 Location: 276 Flinders Street, Adelaide
Opening times: Monday – Friday: 7:30am – 3:30pm
Saturday – Sunday: 8:30am – 2:30pm
Not only are these guys pros when it comes to the All-Day Brunch menu, they're also out-of-this-world bakers. How does homemade cashew and almond bread or custard filled croissants sound? If you look up above to the ceiling of the café you'll find 10,000 wooden spoons hanging which works as both a soundproofing solution and as handy tools for making bakery items such as scrolls and danish pastries. For brunch you can treat yourselves to a whipped peanut butter and jelly French toast, pumpkin romesco with poached eggs on sourdough, soufflé pancakes with berries…To name a few!
#6 Whistle & Flute
Location: 136 Greenhill Road, Unley
Opening times: Monday – Thursday: 7am – 5pm
Friday: 7am – 7:30pm
Saturday: 8am – 3pm
Sunday: Closed
Are you after the outdoor courtyard atmosphere of a pub minus the pokies? Well, look no further than Whistle & Flute, an alfresco setting featuring lots of suspended timber beams, lush greenery and naked concrete. You honestly can't go wrong with any choice you make on the menu, there's haloumi burgers with sriracha mayo, blue swimmer crab scrambled eggs with chilli and Asian herbs as well as maple and sriracha fried chicken with crispy bacon and fried eggs on waffles. On Friday nights they turn into a bar vibe offering cheese boards, wines and beer galore.
#7 Pickle in the Middle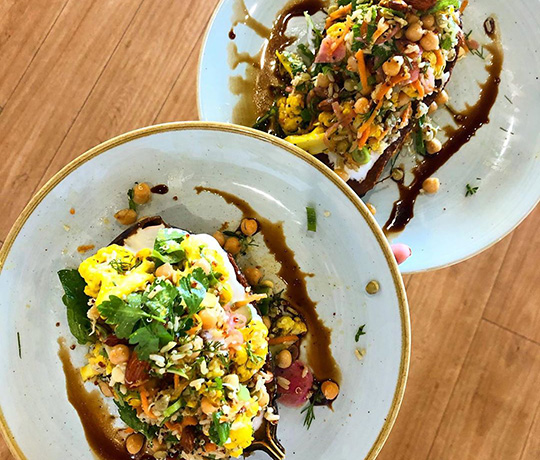 Location: 134 Unley Road, Unley
When: Monday – Sunday: 8am – 4pm
This place will make your flutter and get your blood lines pumping with excitement when you see the menu of this place. It's sustainable café that creates almost everything themselves from daily baked focaccias to almond and cashew milks made in the kitchen. It'll show you why pickles belong in brunch meals from the poached eggs on sourdough toast with pickled eggplant relish and lemon sauerkraut to the mustard zucchini pickles and cheese toastie. It may seem odd, but we promise it adds a delicious twist. There's even have pickle workshops once a month that'll enlighten you on over 30 different spice combinations and how to make the perfect sauerkraut.

We'd love to know about your favourite brunch spots in Adelaide! Let us know here at The Switch!