Sydney
We Put the Best to the Test at Sydney's Hottest New Foodie Precinct in South Eveleigh
Make your way to the hottest new spot for Sydney foodies at the South Eveleigh precinct in Sydney's inner west. We guide you through the best eats including Lucky Kwong, Fishbowl and Re.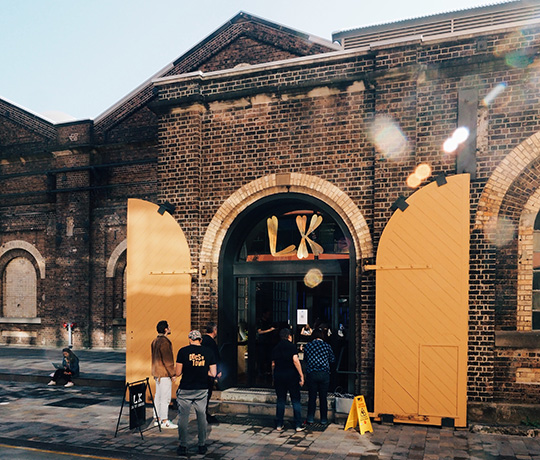 Sydney's hottest new precinct is South Eveleigh. It's a fancy name for the little strip just outside the Locomotive Works that used to house events like Finder's Keeper's Markets, One Fine Day wedding expo, or the audition space for Australia's Got Talent.
Rejected hopefuls would have been treated with a completely different view, though. The former parking lot has now been through an $180 million transformation into a buzzing hub of food, drinks, art and local events.
With over 22 trendy little hole-in-the-walls to eat, drink and shop, it's easy to get overwhelmed. Don't worry, we've done the legwork to uncover the gems of this exciting new destination.
Prepare To Get In Early
First things first: if you want to explore South Eveleigh, do it by day. Most of the restaurants open at 11:30am and are shut by 4pm, so it's mainly for lunch trade. Weekdays are just as busy as weekends, and most restaurants have a queue by 11:45, so come prepared.
Our tip? Opt for takeaway. There are so many beautiful breakout spaces and spots that are just a stroll away from the main drag, you're better off grabbing food to go. Food prep is generally pretty quick and it's much nicer to sit in the sun and enjoy the various public art spaces anyway.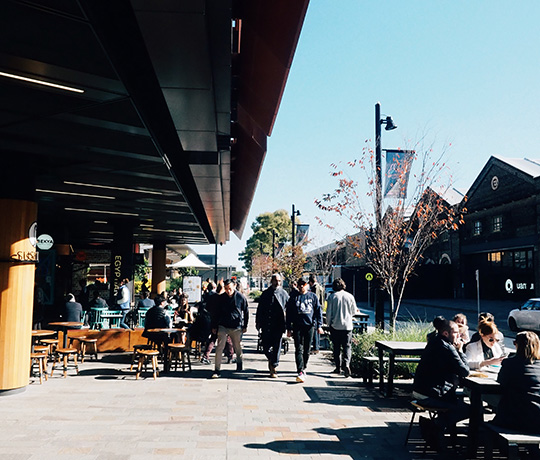 Public Art at South Eveleigh
Being the birthplace of Eveleigh Railway Workshops, Australia's national rail network in the 19th century, it is home to many heritage-listed buildings. The Locomotive Workshop building is beautifully preserved, and several of its machinery collection is on display around the site.
As well as it's industrial history, South Eveleigh is also built on Gadigal Country, with important Indigenous legacy. It's great to see the developers working closely with Indigenous community groups to represent this legacy. Most notably is Yerrabingin House, home to Australia's first Indigenous rooftop garden and community centre.
Another representation is through public art. Eveleigh Treehouse, located on Eveleigh Green, is an artist-led architecture project by Sydney artist Nell in collaboration with Cave Urban and local community members. Over 400 volunteers over 24 workshops came together to turn the steel salvaged from the nearby Locomotive Works into individual metal gum leaves carved with their names or memories dedicated to family and friends.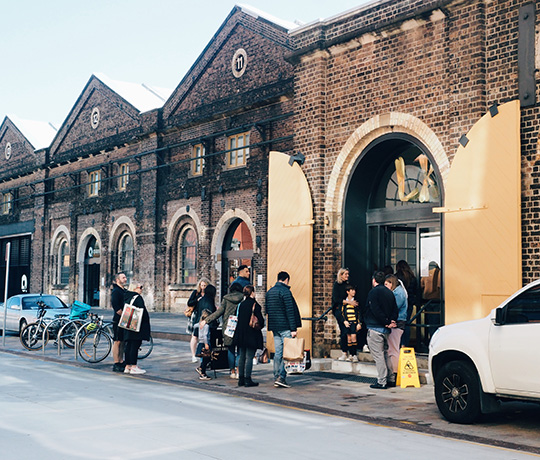 Lucky Kwong
The newest arrival to South Eveleigh, it's already become its crowning glory – judging by the queues outside even before doors open. LK is a Cantonese Canteen, owned and run by iconic restauranteur Kylie Kwong and bittersweetly named after the baby boy she and her wife Nell lost to stillbirth. A touching tribute – the first piece Kwong and Nell have worked together on – hangs in the centre of the space, embodying the spirit of Lucky.
The menu is small, but boy is every dish a smash. As well as daily specials that highlight seasonal produce and producers, it features plenty of blockbusters that Kwong fans have come to love. For now, you can also see Kwong overseeing the operations, ensuring quality and proving the signature atmosphere – clapping at team to announce dishes that are ready to be serve up. Boss.
You can't make a wrong move here, but we recommend the Savoury Pancakes that stormed the Carriageworks Farmers Market, Fresh, Al Dente Prawn Dumplings with Sichuan chilli dressing and fresh bush mint from her Wayside organic rooftop garden and the Caramelised Pork Belly with Davidson's Plum from Northern Rivers region of NSW. There's too much to choose from for just one person's lunch. But best believe, we gave it a red-hot go!
Eat Fuh
Not all restaurants at South Eveleigh are driven by celebrity names. Some are driven by celebrity broths. Eat Fuh serves a mix of southern and northern style pho with a rich, beefy broth that takes over eight hours to make and deserves every bit of praise since their days as a roaming market stall.
It goes without saying that the Pho here is a must-have (we're reliving the broth of star anise, cardamom, cloves and more as we type), but so is the Laksa. The Shrimp and Pork Dumplings – wrapped in banana leaves – are a real treat and get your instagram ready for the signature papaya salad and Vietnamese pancake. No filters are going to do these justice.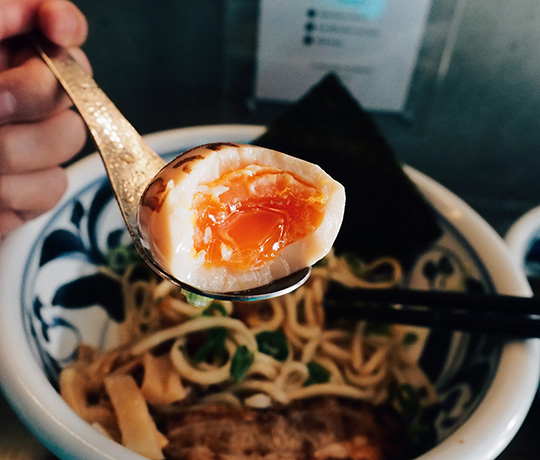 Ra Ra Chan
Moving away from broths, we have… Ramen? That's right. Redfern's superstar ramen joint Ra Ra has a new little sister, Ra Ra Chan, that serves a Tsukemen-style ramen.
Instead of the classic soup-style broth, Tsukemen – a wild 1970s Japanese invention – is a dipping-style broth. While relatively unknown outside of Japan, it has nonetheless legions of local fans. The ramen paired with Tsukemen is usually more chewy and served cold to preserve its beautiful texture, but the broth itself here at Ra Ra Chan is heated using a flame-licked metal stone that is dropped in the dipping broth before serving. Don't wear light-coloured clothing near it, you've been warned.
The menu here at Ra Ra Chan is… let's call it a capsule range. But when you're doing something so excellent, why embellish? The Ebi (Pork & Prawn) Tsukemen is a must, and be sure to savour the branded Seasoned Egg. If I made something this delicious, I'd try to sign it, too.
Fishbowl
For any city office-dweller, this salad/poke bowl bar should already be in your heavy lunch rotation. Well, at least when it's around payday anyway.
Fishbowl started with the mission to change the culture of fast food and salads – with a Japanese twist. Though many pointed out none of the founders were in fact Japanese, their goal was still a noble one and the results speak for itself. Now with 24 locations and growing, one bite and you'll see their popularity is more than just hype.
Create your perfect bowl through a snakes-and-ladders type menu. Start with a base such as brown rice or glass noodles, then select from a host of battle-tested combos from the Sea, Land or Plants, throw in your sides and drizzles and you've got yourself a delicious lunch you can feel good about. There's something for everyone, but Wabi-Sabi (salmon sashimi, cabbage, radish, cucumber & red onion with wasabi mayo & wasabi peas), Miso Soba (chicken/tofu with mixed leaves and soba noodles) and Tofu Boys (tofu, kale, cucumber, raddish, shallots & edamame with tahini dressing & tamari almonds) are the three we always leave with.
Keeping It Simple
South Eveleigh isn't just about blockbuster restaurants and celebrity chefs. Sometimes, all you want is something dependable and fresh.
At the centre of the dining precinct is De Costi's Famous Fish and Sydney Sushi mainstay, Sushi Hon (go check out their Broadway sushi train for some seriously quality bites). Both stalls don't offer seating, but they do have the freshest seafood for your lunchtime fix.
Within the Heritage-Listed Locomotive Works is Romeo's Food Hall. It's an excellent place to do your grocery shopping, sure, but it's also the most decked-out luxury IGA we've ever seen. We're talking hot-serve carvery, in-store pizza makers cooking fresh pizza daily and a cheese bar that we're happy to be lost in.
RE
We're saving the best till last because not only are we a fan of the world's first permanent zero-waste bar, while all the other stalls are busy dealing with their line-up of customers, RE is still closed and prepping wall-to-wall surplus foods.
RE opens its doors at 4pm, when almost all the others are shut, so it's the perfect spot to complete the last hour of working from home over a glass of Truffle Martini. Or the Orchard Gimlet. Or a Whisky Highball.
Eh, when you're supporting the next quantum leap in the food industry, why stop at one. Check out our full review of Re here.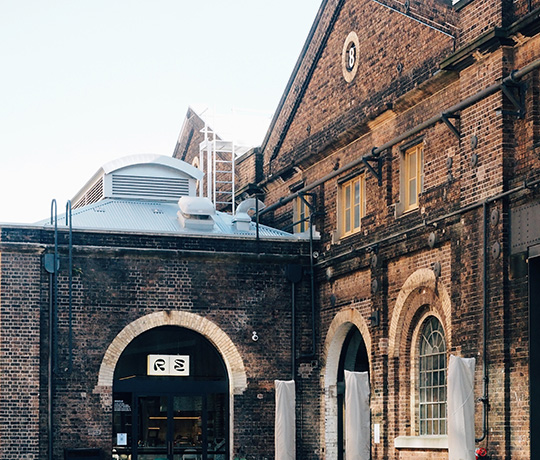 Driving to South Eveleigh? Get Your Parking Validated
South Eveleigh is home to over 18,000 workers and successful tech businesses, with CommBank, Channel 7 and The Australian Technology Park all major tenants, it's obvious that its main customers are this captive lunch crowd. That said, it's pretty easy to get to via public transport. Redfern Train Station is just 5 minutes walk away, and busses drop you off right outside.
For our inner-west locals, biking or e-scooter is a fun way to get here, with plenty of bike paths connecting the area.
If you're driving here, South Eveleigh offers you 2 hours free parking with validation from any of the retailers. There's also free parking from 6pm on weeknights, but except for RE, there's not much here for you after dark here at the South Eveleigh precinct.
South Eveleigh's Sydney Solstice Event
It's also worth keeping your diary open for the upcoming Sydney Solstice event which includes a free foodie street festival with performances, art installations, music, food and beverage. A winter must do if you're in Sydney!