Looking for a way to get your foot in the door when it comes to furthering your career but not sure how during Covid-19? Here's how to get and make the most of.a virtual internship.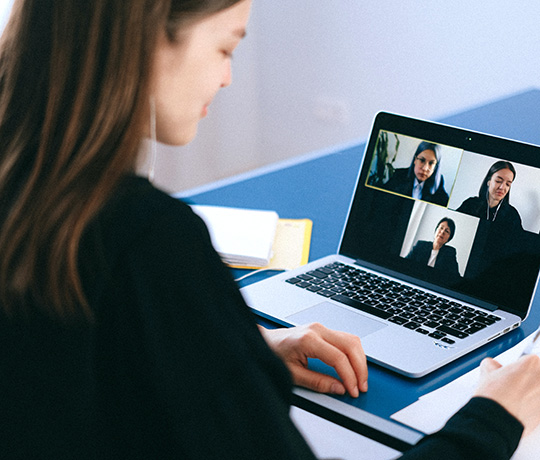 When it comes to making your mark in the industry of your dreams, there's no better way to start than by completing an internship. In fact, throughout your beginning stages you're more than likely going to have to do a couple and that's not necessarily a bad thing! Every internship brings you that step closer to where you want to be. They give you valuable insight into the field you're entering which can help you determine whether you like the industry you're pursuing or what niche you prefer. You could even score a position at the end!
So it's fair to say it's pretty vital. But what do we do now with the impacts of Covid-19 significantly reducing the amount of internships on offer? Studying is a tough gig at the best of times, let alone trying to find an internship over your summer break in the middle of a pandemic. Luckily, there are still quite a few out there in the new normal form of virtual internships.
So, what even is a virtual internship? It's basically a program that allows you to attend meetings, hang with co-workers and produce work through an online portal. This is the solution that most companies have come with so that students and graduates can still have these valuable opportunities without compromising the risks of Covid-19. Think of it as a day in the life – just at your home!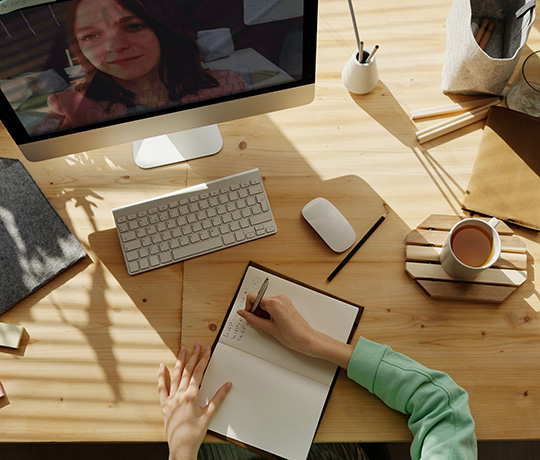 How and where do you apply for a Virtual Internship?
Most virtual internships are offered on their own separate website rather than on individual company websites. These platforms serve as a pool for various virtual internships to apply for all in one spot, which makes it so much easier for students to discover what they're looking for. There are loads of websites that you could find a virtual internship on, such as The Forage which offers virtual experience internships for free with companies like Deloitte, Microsoft and Commonwealth Bank. These virtual experiences provide insight and teach valuable tools for students in skills such as problem solving, strategy and tech software.
Another site to explore is the virtual internships on offer at Australian Internships. They have a range of internship programs from 6 – 12 weeks varying from 10 to 30 hours a week. With access to over 7,000 companies Australia wide, you're sure to find a virtual internship you're looking for. There's positions in fields such as marketing, IT, business, accounting, public relations and numerous others!
All you need to do is check out the current vacancies. Once you've narrowed down your selection, you complete assessment documentation to determine whether you're eligible for the virtual internship program. Upon acceptance you'll be required to complete an application form whereby Australian internships will take care of the rest for you and start negotiating. They'll arrange an interview for you and organise an agreement if you're accepted. After payment, you're on your way to a new world of challenging and rewarding experiences.
Pros and Cons of a Virtual Internship
Completing an internship from home has both its pros and cons. You have the benefit of not needing to travel and doing it all in the comfort of your own home. In fact, you could get away with a work top and tracksuit bottoms for your meetings! You have more flexibility, you could do early mornings, late nights or sessions between classes instead of whole days. It makes the balancing act between your paid part-time job and internship a lot more even. You also have the opportunity to work for any company in the world, which opens up doors to overseas connections and networking.
But of course, a con is that there is also plenty of distraction at home too. You'll need to have a lot of self-discipline and motivation. Those '5 minute' breaks on socials can't turn into 1 hour plus rabbit holes. It's important that you stay on task and meet deadlines within the allocated time frame because in a real workplace environment that's the expectation. You shouldn't be staying up late past 2am overwhelmed!
And whilst these virtual internships offer hang outs with your new colleagues and opportunities for feedback, it's not the exact same vibe as being in the actual workplace environment. You can't turn to the person next to you and ask for help, it'll have to be saved for the next meeting or over email. You miss out on the atmosphere and getting to know your co-workers beyond things to do with work.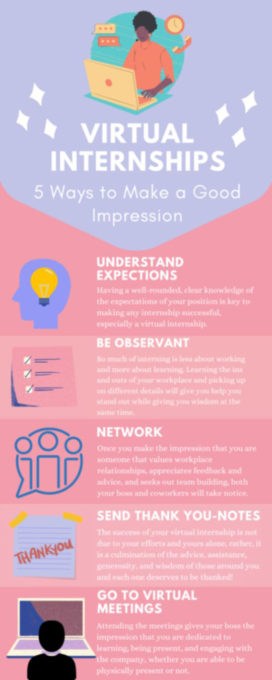 Are Virtual Internships worth it?
As a student, any experience is valuable experience. Covid-19 has thrown a real spanner in the works, sparking up a world of challenges to overcome for students. You've been required to adapt to the new status quo and that's no easy feat. Despite all these new limitations, it shouldn't mean that all doors are closed for you in the industry you're hoping for. You can still make opportunities happen for yourself, and that's why a virtual internship is worth it.
Virtual internships will increase your technical skills, industry contacts and overall knowledge. It'll also highlight your autonomy and willingness to do what it takes to get to where you want to be. Independence and your ability to meet deadlines are all valuable traits that future employers look for. Another important thing to note is that conversing with colleagues via email or conference calls is not just a pandemic situation. In the workplace you will be required at times to work with people you can't meet in person, whether that be because they're from overseas or interstate.
Regardless of the pros and cons, a virtual internship will still help prepare you for your future career. So we say, go for it!