Sydney
Start Your Morning With a Slice of Sunshine at Happyfield in Haberfield
We took it upon ourselves to start our morning early and get this American-diner style brekkie in our bellies from Happyfield in Haberfield, Sydney's Inner West.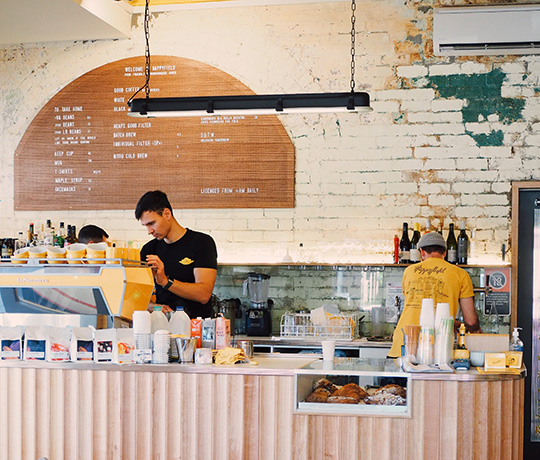 Inner Sydney is not short of a great cafe. Glebe, Surry Hills, Bondi… you can't swing a tote without hitting a sack of fair trade Colombian beans. But if you've been to one, you've pretty much been to them all.
Until now.
During the pandemic, Happyfield burst onto the Inner West scene like the beam of sunshine that it is. Co-owners Jesse Orleans and Chris Theodosi met while working together at The Grounds of Alexandria, but that's where the similarities end. Happyfield is relaxed, optimistic, and exacting without an ounce of pretension.
As soon as you lay eyes on this emoji-yellow gem in the middle of Little Italy (easily accessible by bus!), you can't help but smile. All the tables are left open and they don't take reservations, so try for a weekday, or expect a short wait if you're visiting on weekends.
Once you walk in, you'll be charmed by the American-diner style decor. A tall central buffet, plush leather booths and – you guessed it – bright yellow accents throughout. It was all I could do not to rush to the merch drawer and grab a few yellow t-shirts to join the theme.
It's easy to get dazzled by all the excellent choices in the fold-out (yellow) menu, but stay focused. You are here for three things.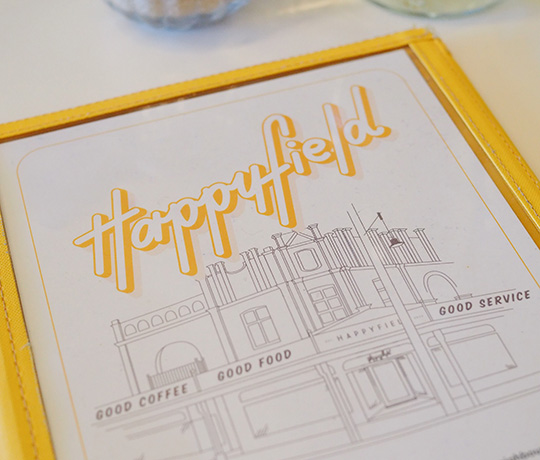 First are the eggs. Being a Sydney cafe, we don't need to tell you that their poached game is on point. What we're here for are the sides. There are eleven to choose from. From baked beans to avocado, there are the classic crowd pleasers, but go for the proper streaky canuck bacon. It's the real deal. Also not to be missed is the housemade potato hash brown. This crispy delight is made of baked potato, onion & egg – pressed overnight and fried-to-order with a secret sprinkle of 13 herbs n spices. The chef's kiss gesture is redundant at this point.
Second is Happyfield's raison d'etre: pancakes. Owner and head chef Owens believes that pancakes should be fluffy and light, no thicker than your pinky so it can be folded twice without breaking. Best of all, you should be able to eat three and not feel sick. Well, good news is you can order as many as you want here for $4 each, meaning you're not going to break the bank. And if their instagram feed is anything to go by, there are plenty of people eating ten or more of these bad boys at a time without feeling sick. With a jar of genuine, grade-A Quebec maple syrup to soak up, that's a challenge we're more than happy to take on.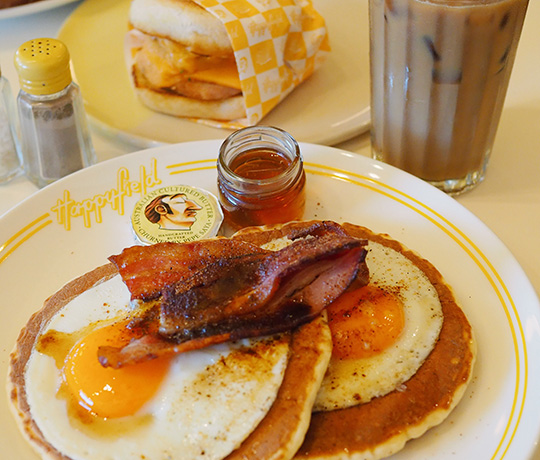 Before you fill up on pancakes though, be sure to leave room for this final gem. The McLovin Muffin. This morsel of joy is Happyfield's answer to the McMuffin. Featuring two handmade chicken sausage patties, folded eggs, cheddar cheese, chipotle mayo with chicken 'n' herb sauce all hugged by two fluffy english muffins. If these were available drive-thru, it's curtains for the golden arches on our next road trip.
There's lots more to explore on the menu, and we fully intend to schedule a follow-up session to investigate. The table across from us ordered the NYC Ruben and a dippy eggs-and-soilders situation that caused serious food envy.
Happyfield is also happily licensed, so bring the crew and try the Canadian Bloody Mary made with honest-to-god clamato juice and Canadian Vodka. If java is your poison, their Five Senses selection is excellent and even features a bottomless option.
Life can be pretty overwhelming at the moment, and as they say it's OK not to be OK. But head on down to Happyfield, because between the affable smiles and the joy you'll taste in every bite, it's pretty hard not to feel that things are going to be OK.