From beach swims to prawns on the barbie, Australian Christmas traditions are a little different than what you may be used to.
Christmas is a lot of people's favourite time of the year. For me, Christmas is a time to unwind and reflect on the year that was. 
When I was younger, I would fly back to my family home in Hong Kong and spend all my term breaks and holidays there. Yup. I racked up a lot of frequent flyer miles. But as I got older and had fiends and plans of my own, I opted to stay in Australia during the breaks.
Having grown up in Hong Kong, Christmas to me was pretty typical of a northern hemisphere celebration. Winter descends, hot chocolate is passed around, and you spend Christmas gathered around beautifully warm, hearty feasts and sharing stories with your loved ones.
After my first Christmas here in Sydney, I realised that Southern Hemisphere Christmases are… well, a little different. It's just as wonderful, but it can be a little disconcerting for newbies.
So if this is your first Christmas here in Australia, here's a little holiday survival guide to give you a heads up.
The Australian Christmas falls in Summer
This is the obvious one, but after many Christmases here, I'm still adjusting to it. December is the start of Summer in Australia and 40, 41 degree Christmas Days are not uncommon. So I hope you're not too attached to the idea of having a "winter wonderland"!
The upside is that Christmas is often spent by the beach or the pool. Also being the start of the summer holidays, Christmas is the perfect, celebratory start to a big year of study, so everyone's in a good mood. 
Prawns on the Barbie?
Because it is super hot, the last thing anyone feels like are giant Christmas hams or roasts. Yes it may sound sacrilege, but spend one Christmas here and you'll feel exactly the same. There are still some purists who like to serve them, but I definitely don't envy anyone who has to slave over a hot stove at the height of summer!
Instead, Australians love some fresh prawns for Christmas Day lunch. And we're lucky to be in a country where seafood is fresh, abundant and great quality. Nothing says Australian Christmas quite like a cold seafood platter and a refreshing glass of Prosecco by the beach.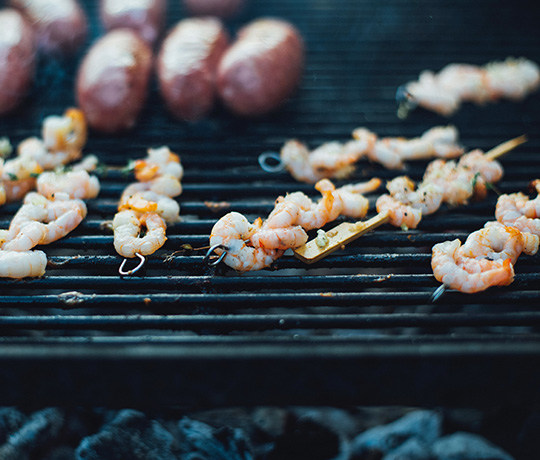 It's Cherry Season
Because it's the start of Summer, Christmas perfectly coincides with the peak of cherry season here. Because of its beautiful deep red colours, it's the gift of the season. So if you're staying with a family or visiting friends during Christmas here in Australia, you'll never go wrong with bringing a box of fresh cherries.
Pavlovas are the Dessert of the Season (Just Don't Ask Where it Originated)
This is an absolute Australian Christmas Tradition classic. Almost every Australian family at Christmas will serve a Pavlova. The "pav" is a sweet, meringue-based dessert that's topped with fresh fruits like strawberries, blueberries, mangos and, most often, a passionfruit drizzle. It looks a mess but that's part of it's charm – every bite is a delicious mix of sweet, marshmallow-like meringue with flecks of crunchy sugary crust cut through with fresh seasonal fruits. 
Just don't get into the debate of "who invented this dish?". I made that mistake one year. It's a hotly debated topic with each side of the ditch claiming invention – Australia vs New Zealand. It's probably the only thing I've seen these two normally laid-back countries really get worked up over.
Bubbles and Panettone For Brekkie
The last one on food is the Panettone. It's strictly an Italian tradition, but because this delightfully light cake is the perfect foil for summer fruits again, it's embraced by many Australian families, especially in Sydney.
The traditional Panettone is plain with a light vanilla flavour throughout, but many variations are also worth trying. These include chocolate, pistachio (my favourite), and even cherry flavours with a sweet filling mixed throughout.
All it needs is a light dusting of icing sugar – which gives it that extra bit of Christmas magic – and a glass of your bubbles to wash it all down with. It's a light but special treat to start your Aussie Christmas Day and a moment I look forward to every year.
Boxing Day Barbecues
Christmas Day in Australia tends to be celebrated with immediate family, but Boxing Day is when you get together with friends or the wider family. With so many people often coming and going, an Aussie barbie is often the easiest way to entertain, so it's often what you'll get on the 26th of Dec.
This is where Aussies really shine. Think beautiful gourmet sausages (better known as snags), gorgeous fresh cuts of steaks and meat, fresh kebabs… all cooked over a hot barbecue with a cold beer in hand.
The test cricket is always on during the 26th Dec too, so if you've never seen a cricket match, a backyard barbecues is the best introduction. Second to actually going to the Melbourne Cricket Ground to experience it for yourself, of course.
Cricket…. On the street
Ok, maybe this is more of city-dwellers. Because many Aussie kids grew up with a backyard playing cricket while the test match is on, cricket on Boxing Day (or indeed, summer in general) is often a must. But when these kids grow up and move to the inner city, back yards are definitely not vast enough to allow for a game of cricket. So we tend to improvise and play cricket on the street. Not like, the main road, but in the laneways of Glebe or Fitzroy. It's generally pretty safe and it's a fun way to "have a hit" if you, like me, didn't grow up playing cricket. 
Boxing Day Sales
This Christmas tradition is a little more my speed, but probably no less dangerous than Cricket on the street if I'm honest.
Many shopping centres and department stores go on sale on Boxing Day. Some Aussie families even defer their Christmas shopping until the 26th of December in order to score a deal. 
It's a lot of fun and many department stores often have great deals spaced out throughout the day so there's no real need to be getting up at 7am to be the first in store to get a good deal. That said, it does still get pretty busy, so bare that in mind.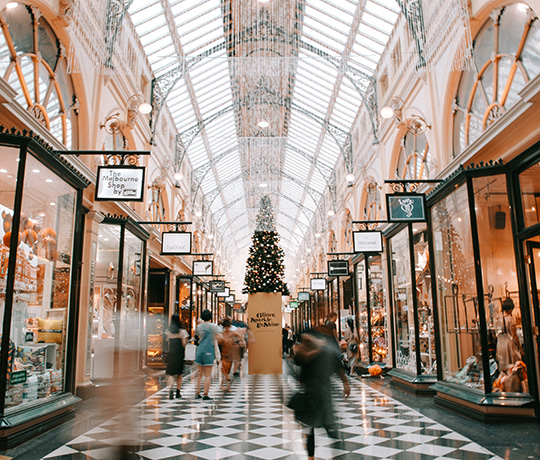 Carols by Candlelight
This one's a bit of a Sydney institution and definitely deserves to be on the list of top Australian Christmas Traditions. It's televised every year and Australia's biggest stars (yes, even The Wiggles) perform here every year to spread the Christmas cheer. 
It's hosted in The Domain, a beautifully part of Sydney close to the CBD. If you can, it's definitely worth trying to make it there in person one year. It's free to attend with some ticketed areas. So grab yourself a picnic mat and a picnic and I promise it's a great way to start the holidays. 
Six White Boomers
While we're speaking of carols and Christmas songs, Aussies do like to get creative here. Traditional Christmas songs like "White Christmas" or "Let is Snow" definitely feels out of place under the scorching summer sun. Chestnuts roasting on an open fire is the last thing you'd want. So Aussies have had to come up with a whole different set of carols.
Don't get me wrong, the classics are still very much in play, and you'll never be able to do your Christmas shopping without being caught singing along to Mariah or Buble. But there are a couple of extra carols just for us.
The most famous is "Six White Boomers". After almost a decade here, I still can't explain this song. It's probably best experienced in person. Good luck getting the song out of your head though…
Evil Santa
Ok, so this might not be strictly as Australian as Pavlovas (just kidding!), but over the last few years have become a super popular way to play "Secret Santa". 
This is the version that I play with my friends. First, every player must bring a present. And though you don't know who will ultimately receive the present, it's nice to make sure it's something lovely; you may be the one who ends up with it! More on that later. 
To start the game, put all the presents – unmarked – in a central location. Every player must now draw a number from 1 to however many players are playing. There's no strict limit on how many players can play, I've had over 30 people play, it will just take a little (or lot) longer.
Once everyone has a number, that is the order the players can select a present. Number one goes first and selects a present from the pile. He/she has to open the present and show everyone what it is.
This is where the game gets interesting. It is now number two's turn. He/she can choose to open a present from the pile, OR steal the present that player one just opened. If number two chooses to steal from number one, then number one has to open another present from the pile.
The game continues on with number three. He or she can now choose to steal from all opened presents or open a new one from the pile. 
Usually everyone is pretty civilised up to player five, and then the frenzy happens. To help speed the game along, each present can only be stolen twice, meaning the third owner is the final owner of the gift. So if you have some friends or allies in the game, work together to lock in a good prize!
The game becomes a pretty exciting way to do secret Santa. And, if you play your cards right, you can leave with the present you came with, so you can treat yourself with something you've wanted all year, too.